Edimax 5-in-1 N300 Wi-Fi Router, Access Point, Range Extender, Wi-Fi Bridge & WISP BR-6428nS
5-in-1 Router, Access Point, Range Extender, Wi-Fi Bridge & WISP
Smart iQ Setup for smart, automatic and quick installation with no CD required
High Gain Antenna: Enhances wireless range and coverage
Guest network: Provides connectivity while isolating guests from your primary network
Easy One-Click Setup with Wi-Fi Protected Setup (WPS) button
The BR-6428nS V4 is a 300Mbps high-speed 5-in1 multi-function Wi-Fi solution which supports IEEE 802.11b/g/n standards and provides significantly improved coverage with the High-gain antenna. Operating as a router, access point, range extender, Wi-Fi Bridge or WISP, the BR-6428nS V4's flexibility meets the demands of any networking applications. The smart iQ Setup wizard makes setup and installation as easy as a few clicks. Impressive performance and a competitive price make the BR-6428nS V4 a cost-effective solution for home or small office environments.
5-in-1 Wi-Fi Router, Access Point, Range Extender, Wi-Fi Bridge and WISP
The BR-6428nS V4 can work as router, access point, range extender, Wi-Fi Bridge or WISP. Just configure the mode you need for your network environment using the smart iQ Setup wizard.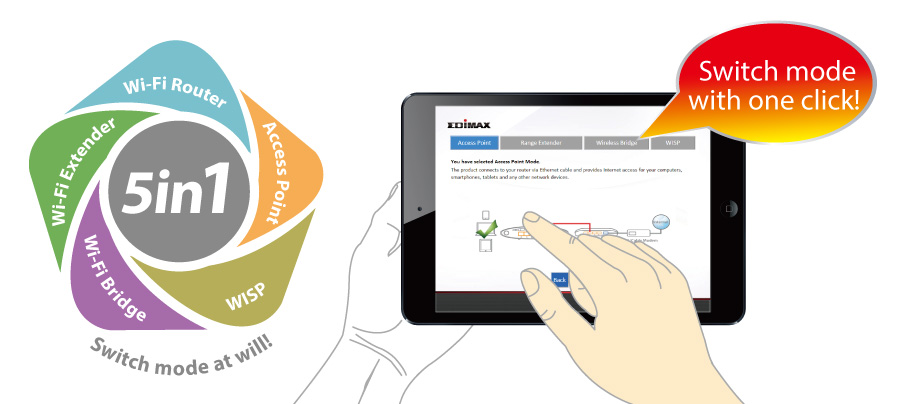 Switch mode using the smart iQ setup wizard on any device with a web browser, no CD required.
*Mobile device setup requires iOS 4.0 or Android 4.0 and above.
Smart iQ Setup
Features iQ Setup for smart, automatic and quick installation with no CD required.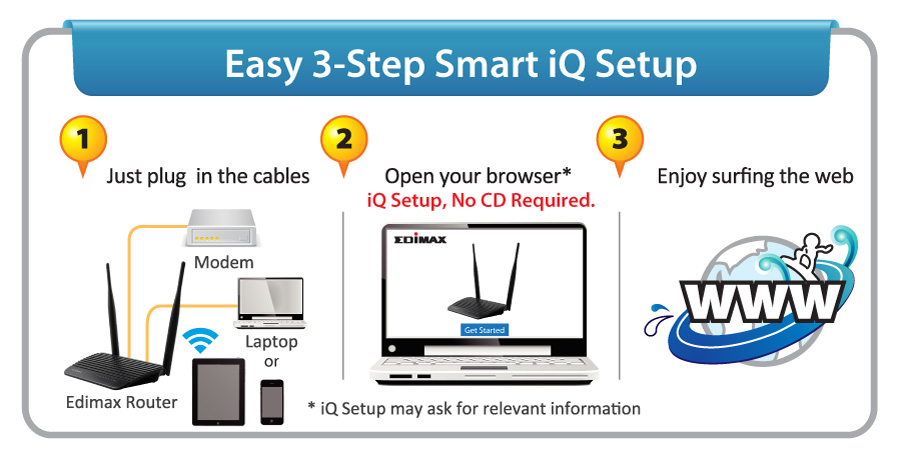 Edimax's Revolutionary iQoS
iQoS is Edimax's solution for a quicker, easier, and more effective way to manage Internet bandwidth. While Quality of Service (QoS) functionality is a common feature in routers across the market, typically only advanced users have the knowledge required to set up the complex parameters. Edimax though has redesigned QoS with user-friendliness and accessibility in mind. A simple and intuitive user interface allows users to arrange bandwidth priority settings in just a few clicks. With iQoS, you can enjoy gaming, video streaming, VoIP applications and BT clients at the same time without the usual nightmare of lag and interruptions. An original, efficient and effective means of managing your Internet bandwidth.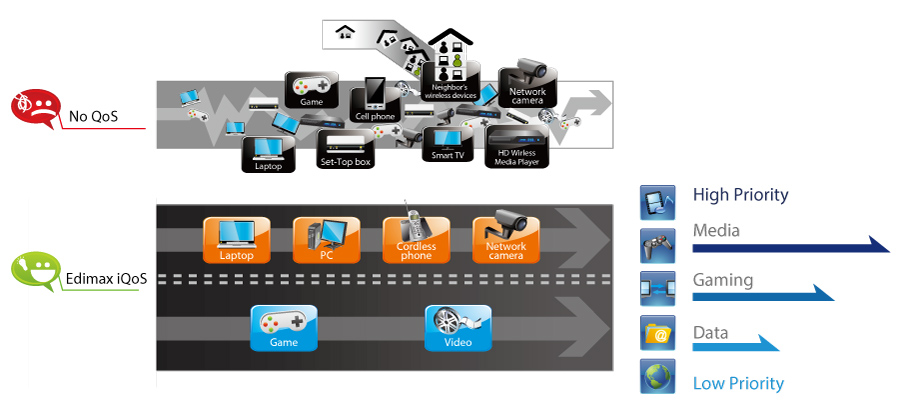 Multi-SSID & VLAN Support*
Multi-SSID enables users to configure up to five separate SSIDs in order to group and manage users according to your requirements.
*Access point mode only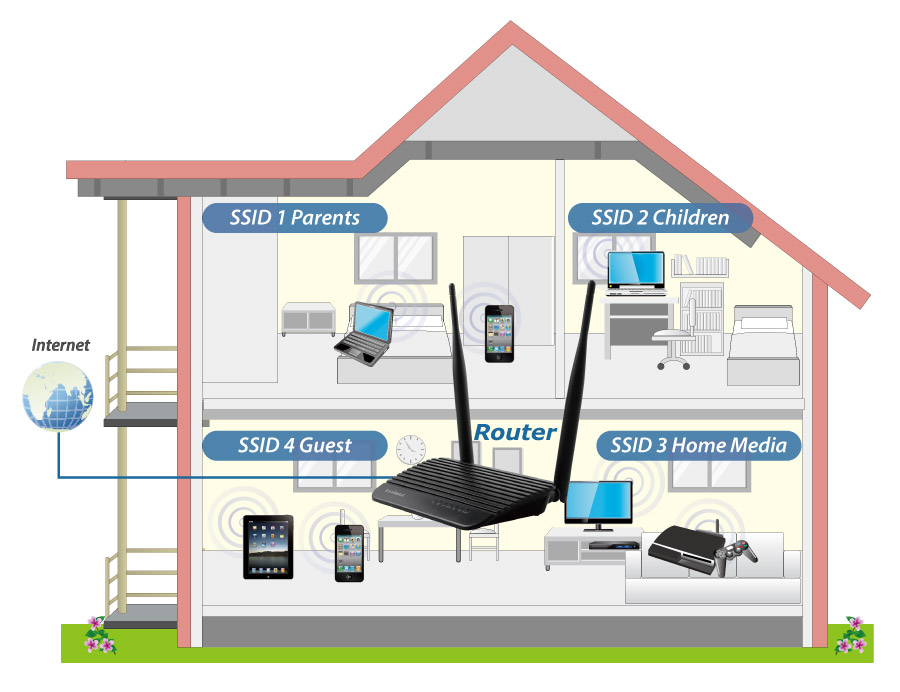 Guest Network*
Supports a guest network to provide connectivity while isolating guests from your primary network.
*Router mode only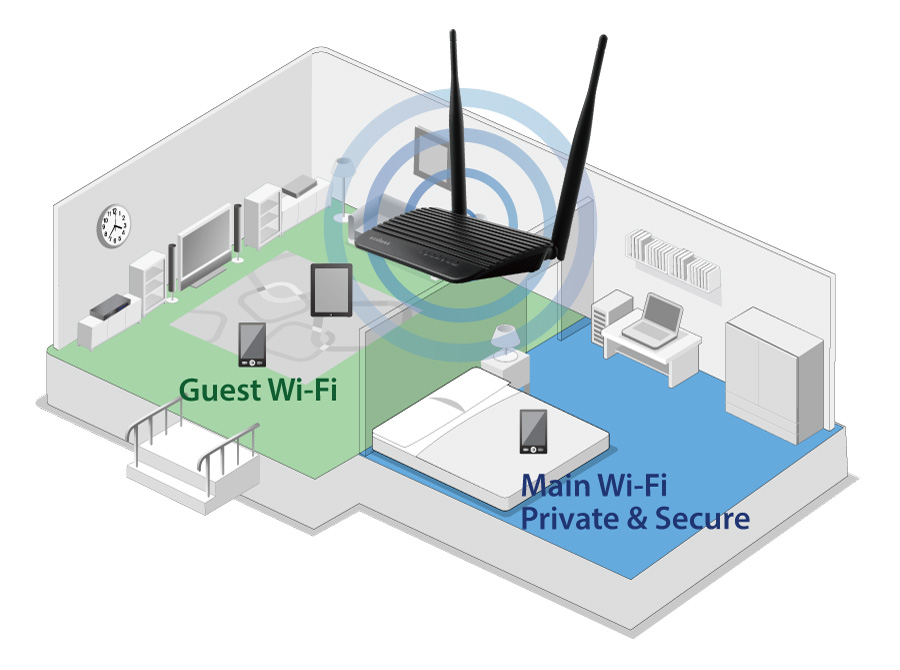 APPLICATION DIAGRAM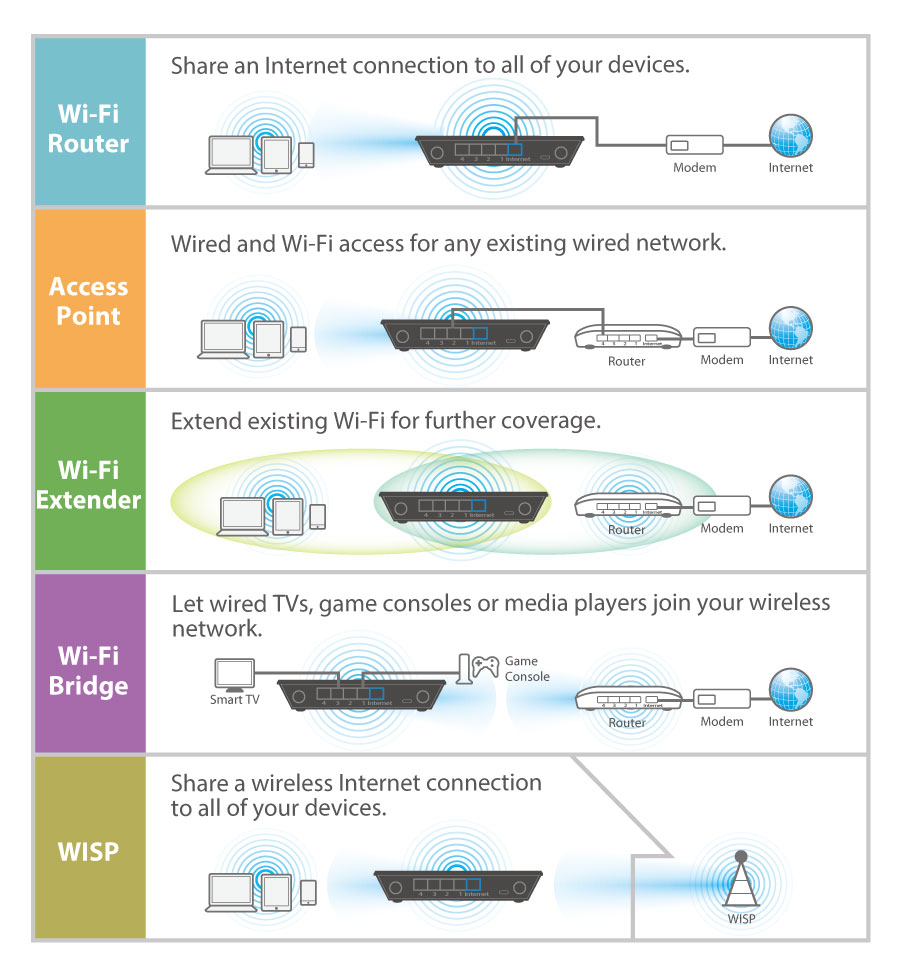 *Maximum performance, actual data rates, and coverage will vary depending on network conditions and environmental factors.
*Actual viewing resolution and frame rate of network cameras depend on connection speed.
*Product specifications and design are subject to change without notice.
More Information
Brand
Edimax
Product Type
simple
Frequency Band
2.412 GHz - 2.462 GHz
Data Rate
Up to 300Mbps
Antenna Type
2 x High-gain antennas
Antenna Gain
2 x High-gain antennas
Wireless Standards
•Supports WISP connection mode •Supports RJ-45 cable/xDSL modem •Supports DNS Proxy •WAN protocol: PPPoE, Static IP, Dynamic IP, PPTP and L2TP
Wireless Security
•NAT/NAPT IP sharing •64/128-bit WEP encryption and WPA-PSK and WPA2-PSK security •DHCP server/client •QoS for critical operations •SPI anti-DoS firewall
Interface
•1 x RJ-45 Fast Ethernet WAN port •4 x RJ-45 Fast Ethernet LAN port •LED indicators: power, WAN, Wireless, WPS, new firmware notice and firmware upgrade status •2 x High-gain antennas •WPS/Reset button
ADSL
no
Advanced Features
•Multi-language user interface •Supports remote management •System status and security log •Firmware upgradable •Smart iQ Setup, no CD required
Other

•Supports router, access point, range extender, wireless bridge and WISP modes
•Guest Wi-Fi network in router mode
•Up to 5 SSIDs in AP mode
•IGMP proxy and IGMP snooping
•DDNS and DHCP
•Port triggering for special applications
•Virtual server and DMZ hosting
•MAC/IP filter and URL blocking
•iQoS for smart bandwidth management
•Static routing
•UPnP architecture
•VPN pass-through (IPSec/PPTP)
•Wi-Fi schedule control
•Fault tolerance firmware upgrade
اختار نظام التقسيط المباشر (بدون اجراءات بنكية) الذي يناسبك
تقسيط Contact Get Go
يطبق هذا النظام على جميع حاملى بطاقات Contact Card
فى حالة عدم توافر Contact Card على العميل القيام بملأ طلب تقديم جديد على ان يتم استلام الكارت فى خلال 48 ساعه
اثبات دخل ( مفردات مرتب او كشف حساب بنكى او سجل تجارى و بطاقة ضريبية اذا كان صاحب عمل )
ايصال مرافق ( غاز او كهرباء او تليفون ارضى ) - صورة البطاقة
مصاريف استعلام 100 جنيه.
تبدأ مدة التقسيط من 6 اشهر و حتى 24 شهر بفائده متراكمه 1.76% شهريا.
تبدا مدة تقسيط الموبيل و التابلت من 6 اشهر حتى 12 شهرا.
ان يكون لدى العميل حساب بنكى
يمكنك سداد باقى مبلغ الاقساط بدون فوائد بعد سداد اول قسط.
·فى حاله الموافقة على اصدار الكارت يتوجه العميل لاستلام الكارت من اقرب فرع مع العلم ان الكارت سارى لمدة 3 سنوات بدون اى مصاريف ادارية او مصاريف سنوية طوال هذه المدة
لمعرفة أقرب فرع أضغط هنا
تقسيط شركة بيوت
خلال شهر فبراير تقسيط بفائده متراكمه 1.5% شهريا عند اختيار الفتره من 6 اشهر و حتى 36 شهر
تبدأ مدة التقسيط من 6 اشهر و حتى 36 شهر بفائده متراكمه 2% شهريا.
التقسيط متاح بدون مقدم و علي فتره التقسيط من6شهور وحتي 36شهر
مصاريف الاستعلام والتعاقد 100 جنيها مصري تدفع في حاله الموافقة علي طلب التقسيط فقط
التقسيط مباشرة من شركه بيوت , بدون اجراءات بنكية , بدون تحويل أو خصم من المرتب اوالمعاش
دفع الاقساط يكون بمقر شركة بيوت وفي حالة طلب التحصيل من المنزل يكون مقابل مصاريف تحصيل 20 جنيه
مصاريف الاستعلام والتعاقد 150 جم في حاله طلب التعاقد بالمنزل
تتوافر خدمة تقسيط بيوت لسكان مناطق ( القاهرة -الجيزه- السادس من اكتوبر - الشيخ زايد - التجمع – الرحاب مدينة الشروق - مدينتي - العبور )
تقسيط ValU
يجب تحميل تطبيق ValU على الموبيل و استكمال خطوات التسجيل.
يقوم العميل بتفعيل حسابه من خلال منافذ التفعيل المختلفه.
تبدأ مدة التقسيط من 3 اشهر و حتى 24 شهر بفائده متراكمه 1.5% شهريا.
على العميل سداد مبلغ 20 % مقدم.
لمعرفة أقرب فرع أضغط هنا
تقسيط شركة أمان
خلال شهر فبراير تقسيط بفائده متراكمه 1.5% شهريا عند اختيار الفتره من 3 اشهر و حتى 12 شهر
تبدأ مدة التقسيط من 3 اشهر و حتى 36 شهر بفائده متراكمه 2% شهريا
مقدم 10 %
تتوافر خدمة تقسيط امان لسكان جميع المحافظات.
يوجد مصاريف استعلام 75 جنيه.
فى حالة زيادة مبلغ التقسيط عن 10 الاف جنيه يتطلب وجود ضامن من الدرجه الاولى (اب – ام – اخ – اخت – ابن – ابنه) لا يقل السن عن 21 سنة ولا يزيد عن 65 سنة (مع نهاية مدة التقسيط).