D-Link - ADSL Router - DSL-2877AL - AC750 Dual Band - With Antenna
Data Rate: Up to 750Mbps
Interfaces: 10/100/1000 Gigabit Ethernet WAN port
802.11 ac/n/g/b Wireless LAN
Four 10/100 Fast Ethernet LAN ports
RJ-11 ADSL port
Two USB 2.0 ports
Standards: IEEE 802.11ac
IEEE 802.11n
IEEE 802.11g
IEEE 802.11b
IEEE 802.3
IEEE 802.3u
D-Link - ADSL Router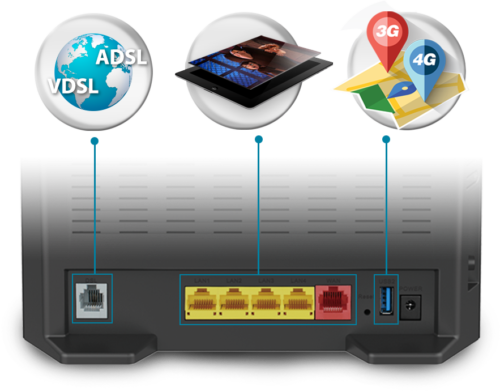 Triple WAN (ADSL, Ethernet WAN, 3G/4G LTE)
One device meet all your internet needs, DSL-2877AL is equipped with ADSL Modem, dedicated Gigabit WAN port and USB port for 3G/4G dongle connection.
DSL-2877AL will certainly meet your needs, regardless of what broadband you are using now or upgrade in the future.
WAN Failover
Automatically switch to the secondary WAN connection available when the primary WAN is disconnected.
This help to prevent disruption to your Internet enjoyment.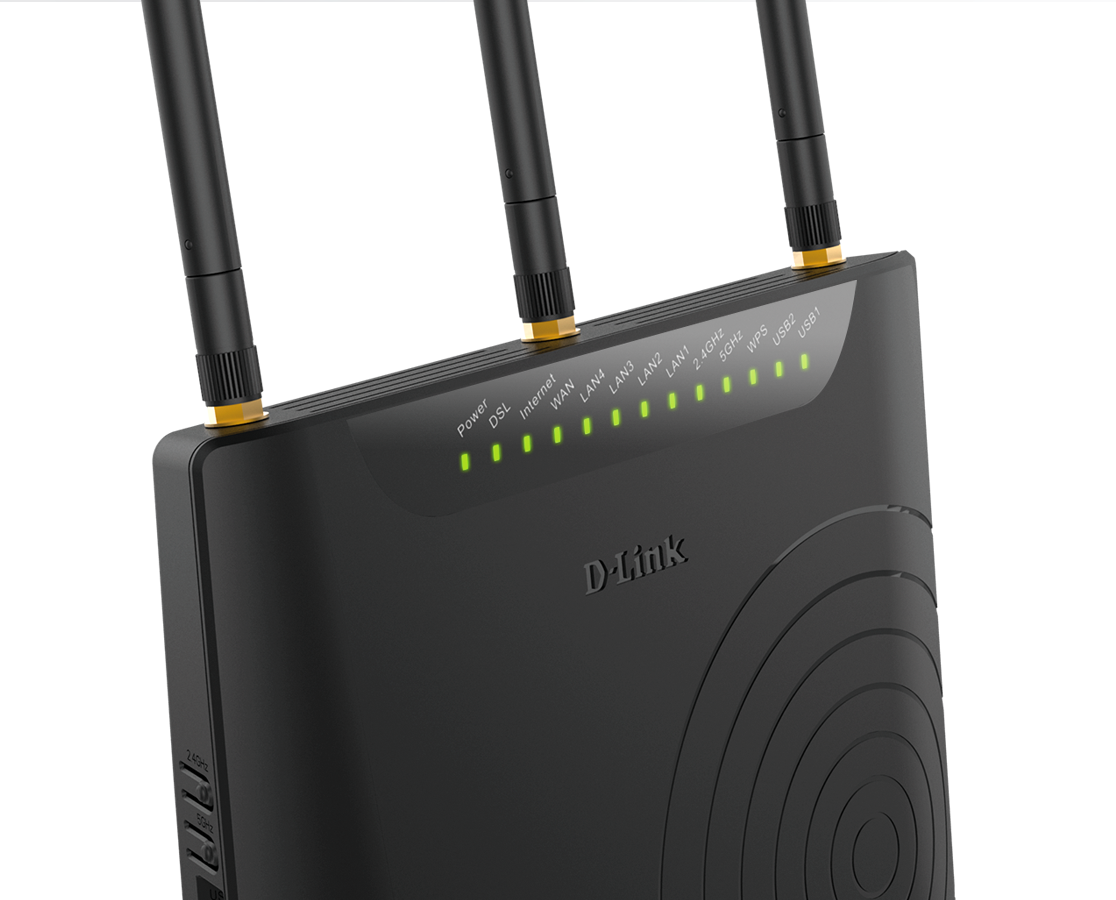 Wireless AC750
Supports latest Wireless AC technology, with up to 300Mbps on 11n and up to 433Mbps on 11ac.
Concurrent dual-band wireless allows web surfing on the 2.4GHz band, while simultaneously streaming digital media on the 5GHz band.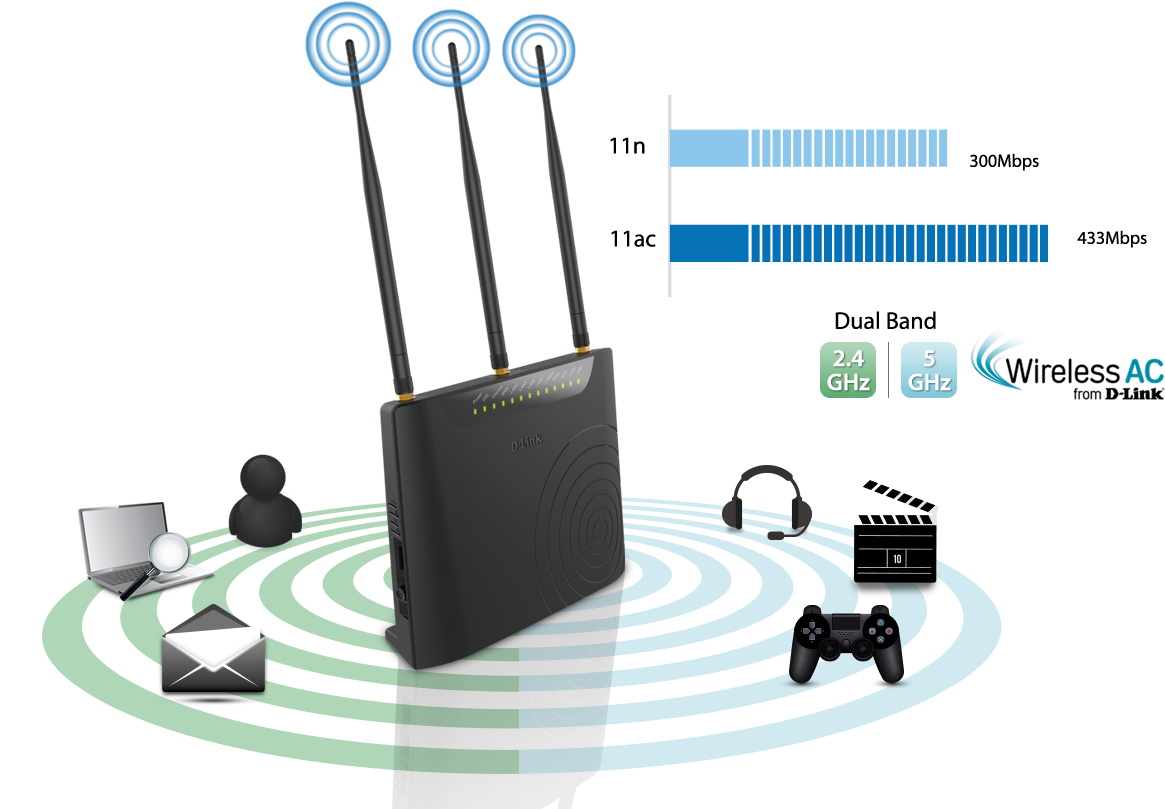 AutoZoning for Entire HOME Coverage
Router paired with Wireless Extender have some limitation, consumer need to switch to stronger signal manually.
D-Link provide a Breakthrough with AutoZoning solution:
Working together with DMG-112A, Auto-Zoning technology enables the devices to communicate with each other, enhancing one's home Wi-Fi network, byy allowing automatic and seamless transitions across different networking devices on the same Wi-Fi network
(i.e.the repeater DMG-112A and the main router DSL-2877AL) providing fuss-free experience to user.
More Information
Brand
D-Link
Product Type
simple
Frequency Band
2.4GHz to 5GHz
Data Rate
Concurrent dual-band wireless for combined connections of up to 750 Mbps
Antenna Type
External Antennas
Wireless Standards
IEEE 802.11ac , IEEE 802.11n , IEEE 802.11g , IEEE 802.11b , IEEE 802.3 , IEEE 802.3u
Wireless Security
Attack Prevention , Port scanning & illegal packet attack , DoS Attack , SYN Flooding , Ping of Death , Teardrop , LAND attack , IP Spoofing , IP with zero length , Smurf Attack , TCP Null Scan , Stateful Packet Inspection (SPI) , Management Access Contro
Interface
10/100/1000 Gigabit Ethernet WAN port , 802.11 ac/n/g/b Wireless LAN , Four 10/100 Fast Ethernet LAN ports , RJ-11 ADSL port , Two USB 2.0 ports
Advanced Features
Dual-Band 11AC VDSL/ADSL2+ Wireless Router
Other

Latest Wireless AC Technology
Enjoy combined wireless speeds of up to 750 Mbps and increased range thanks to the latest 802.11ac wireless technology.
Dual-Band Wi-Fi for Seamless Performance
Access your network via two concurrent wireless bands for seamless performance no matter what you are doing.
Intuitive Setup Wizard
The setup wizard allows you to directly connect to the router and follow the on-screen instructions, making installation hassle-free.
اختار نظام التقسيط المباشر (بدون اجراءات بنكية) الذي يناسبك
تقسيط Contact Get Go
يطبق هذا النظام على جميع حاملى بطاقات Contact Card
فى حالة عدم توافر Contact Card على العميل القيام بملأ طلب تقديم جديد على ان يتم استلام الكارت فى خلال 48 ساعه
مصاريف استعلام 100 جنيه.
تبدأ مدة التقسيط من 6 اشهر و حتى 24 شهر بفائده متراكمه 1.76% شهريا.
تبدا مدة تقسيط الموبيل و التابلت من 6 اشهر حتى 12 شهرا.
يمكنك سداد باقى مبلغ الاقساط بدون فوائد بعد سداد اول قسط.
لمعرفة أقرب فرع أضغط هنا
تقسيط شركة بيوت
تبدأ مدة التقسيط من 6 اشهر و حتى 36 شهر بفائده متراكمه 1.5% شهريا.
التقسيط متاح بدون مقدم و علي فتره التقسيط من6شهور وحتي 36شهر
مصاريف الاستعلام والتعاقد 100 جنيها مصري تدفع في حاله الموافقة علي طلب التقسيط فقط
التقسيط مباشرة من شركه بيوت , بدون اجراءات بنكية , بدون تحويل أو خصم من المرتب اوالمعاش
دفع الاقساط يكون بمقر شركة بيوت وفي حالة طلب التحصيل من المنزل يكون مقابل مصاريف تحصيل 20 جنيه
مصاريف الاستعلام والتعاقد 150 جم في حاله طلب التعاقد بالمنزل
تتوافر خدمة تقسيط بيوت لسكان مناطق ( القاهرة -الجيزه- السادس من اكتوبر - الشيخ زايد - التجمع – الرحاب مدينة الشروق - مدينتي - العبور )
تقسيط ValU
يجب تحميل تطبيق ValU على الموبيل و استكمال خطوات التسجيل.
يقوم العميل بتفعيل حسابه من خلال منافذ التفعيل المختلفه.
تبدأ مدة التقسيط من 3 اشهر و حتى 24 شهر بفائده متراكمه 1.5% شهريا.
على العميل سداد مبلغ 20 % مقدم.
لمعرفة أقرب فرع أضغط هنا
تقسيط شركة أمان
تبدأ مدة التقسيط من 3 اشهر و حتى 12 شهر بفائده متراكمه 1.25% شهريا
مقدم 10 %
تتوافر خدمة تقسيط امان لسكان جميع المحافظات.
يوجد مصاريف استعلام 75 جنيه.
فى حالة زيادة مبلغ التقسيط عن 10 الاف جنيه يتطلب وجود ضامن من الدرجه الاولى (اب – ام – اخ – اخت – ابن – ابنه) لا يقل السن عن 21 سنة ولا يزيد عن 65 سنة (مع نهاية مدة التقسيط).